Did you know that Shopify was the first big e-commerce platform to implement DevOps tools in their business? The story starts in 2016. At that time, a Canadian company was running Shopify's services everywhere using physical servers. The business was very successful, but manual management and inability to scale slowed down the platform, forcing people to wait. The level of their technology was on par with a collection of rusty knobs—they just didn't work the way they needed to! 
The Shopify team recognized that they needed to focus creating on infrastructure and an automated system that would work every time. They decided that hire DevOps developers to implement Kubernetes was the best solution. They implemented it into their business because it was open source and capable of easily scaling the platform without increasing RAM and processor power. After making changes, their page's speed of response increased. Through this change, Shopify cut down their expenses on infrastructure significantly while also reducing the number of resources necessary to keep the page running.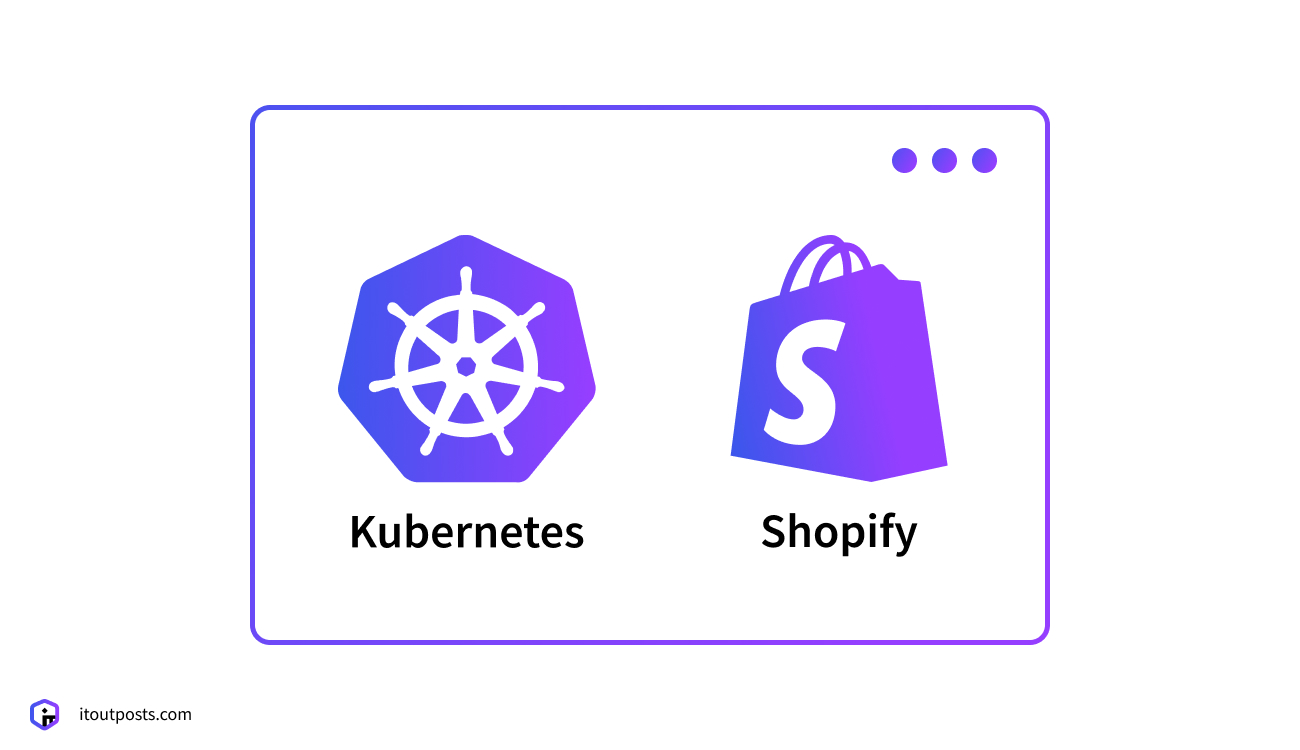 FOR REFFERENCE: SHOPIFY is a Canadian e-commerce company that offers a platform for online stores. Shopify has over 7000 employees. Every year, the company processes over $50 billion in transactions. The platform receives over 100,000 requests per second during peak demand.
So perhaps you also have an e-commerce project and want to scale or reduce your expenses and server costs? If so, this article is for you – keep reading and I will show you the benefits of working with a DevOps team.
Story of DevOps
DevOps is a made-up word composed of two words: "Development" and "Operations" (more precisely, IT Operations). The basic idea of this approach was created in 2008 by Andrew Clay Shafer and Patrick Debois.
The story starts in Belgium. System administrator Patrick Debois worked as a consultant on data center migration for the Belgium government. He was frustrated by conflicts between developers and system admins.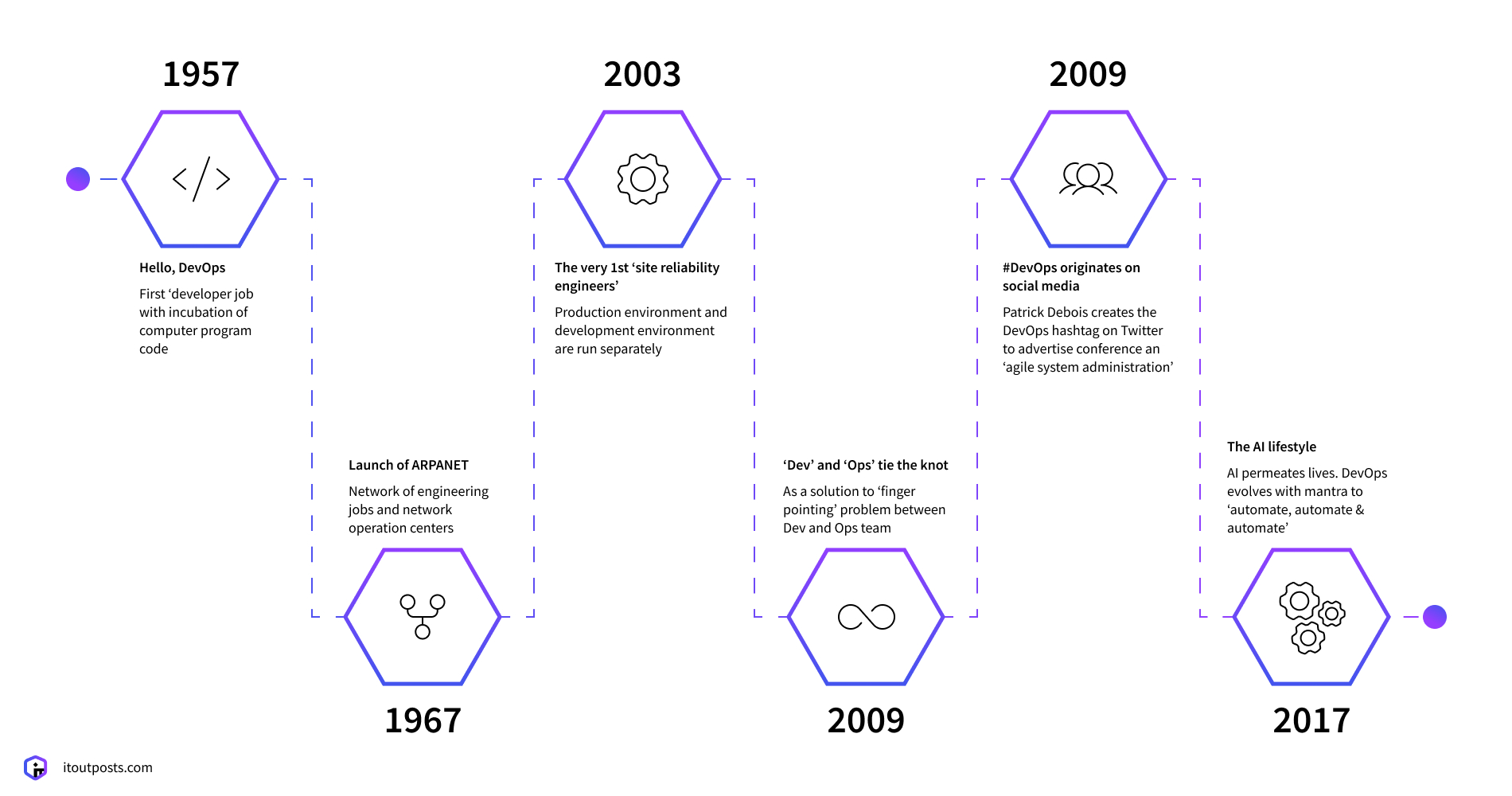 In the same year, software developer Andrew Clay Shafer was a speaker at the Agile conference where he had a speech about "Agile infrastructure". Only one person attended his lecture…guess who? Yes, you are right! Exactly! It was Patrick Debois. But Shafer thought Debois had no interest in this topic and attended the lecture to skip the exams!
But first impressions are often misleading! Debois tracked Shafer down and started to ask lots of questions. Based on their talk, they created an Agile Systems Administration group. Later on at a conference, Debois decided to change the name of the Agile group to something shorter. So he took the first three letters of "development" and "operations" and added the word "days", creating DevOpsDays.
The conference gathered an impressive number of developers and system administrators. To make it memorable, Debois created a hashtag on Twitter: #DevOps. Since that time, people have referred to the movement as "DevOps".
Where are they now? Patrick Debois is currently an independent IT consultant and writes books. Andrew Clay Shafer's LinkedIn page says that he is Vice President Transformation at Red Hat. Separately he adds, "I'm looking for interesting problems to solve." Indeed!
How can my e-commerce business benefit from DevOps?
Henry Ford is famous across the world for creating an automated production line which revolutionized the way cars were built. Likewise, DevOps transforms applications by automating all processes. So, what exactly do they do?
Read also: DevOps engineer salary
1. Faster and more frequent updates without impact on production
DevOps will improve your code faster, and your application will receive more frequent updates without impacting production. What will you get? A high-quality product, more satisfied and loyal customers, a strong reputation for your brand, and competitive advantages in the market.

2. Fast speed of page's uploading 
You know that customers will not wait for you if you can't keep up with them; they will just go to another website! If your online shop is slow to load, it will cause serious financial problems for your business. Minor problems like a site crash for one hour may cause you huge financial losses measured in thousands of dollars. DevOps will make sure your application has a fast response and does not unexpectedly crash. Read also:
How to control DevOps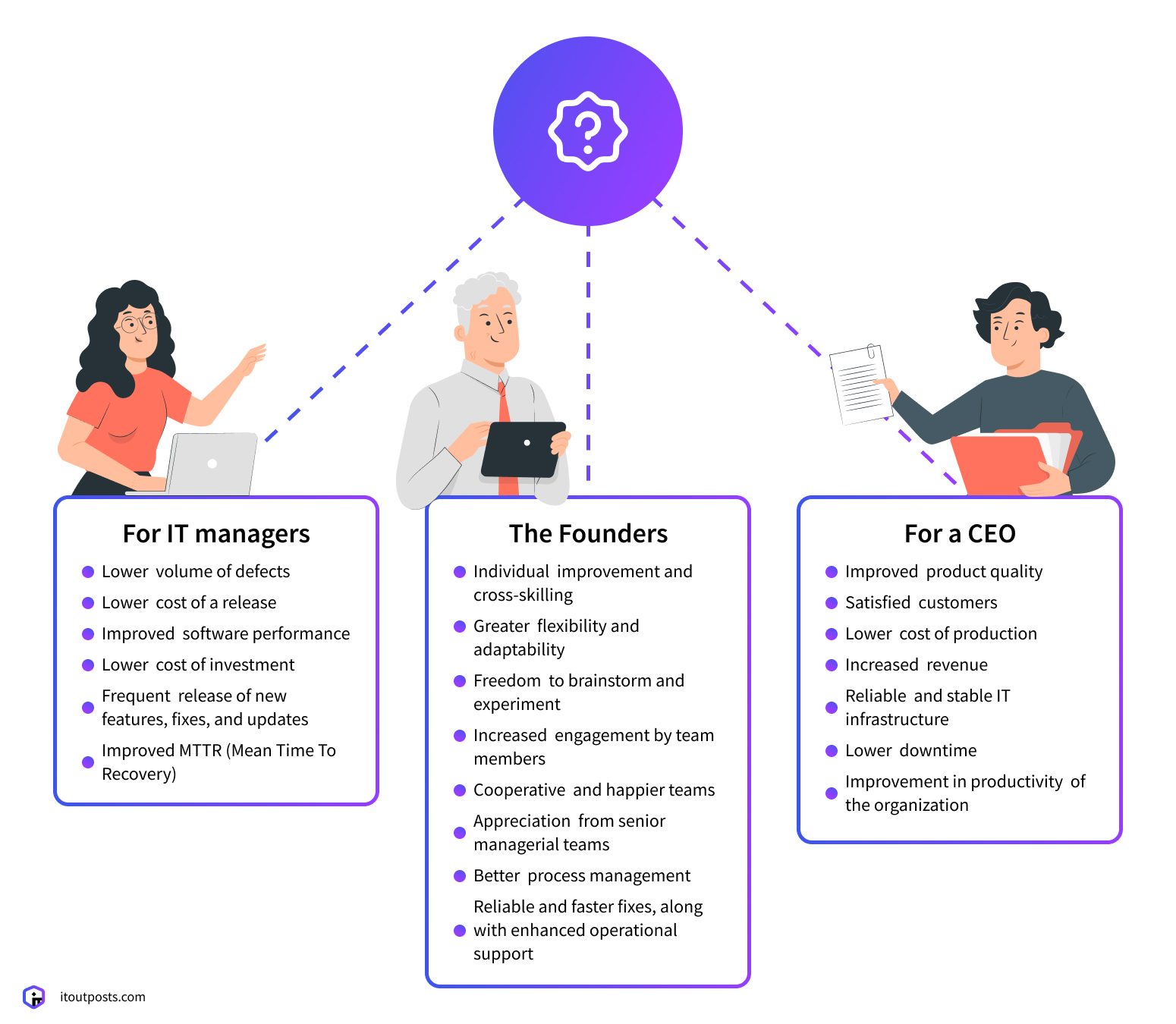 3. More happy clients
You probably don't want your clients to know about your technical problems. But truth is, they probably will be the first who notice problems with your eCommerce site.So to avoid it you need someone monitors of your website all the time. And that is exactly what DevOps do.
4. Minimal cost of production
Like Henry Ford's production line, which reduced the price of cars, the DevOps tool will cut down your management and production costs. With DevOps, your developers will no longer change code manually – they will set a code that performs the process for them automatically.
5. Security
DevOps can also set up security to protect your application from hacker attacks and unauthorized access. Read also:
DevOps main security risks
What should I know before getting started?
Before you decide to work with DevOps, you need to take a few steps.
To understand if DevOps succeeded, make screenshots of your current program, and measure the current metrics of the software life cycle. Compare these metrics before and after DevOps works on your system. This will help you make a clear assessment of how well they performed their job.
You also need to consider your budget for the transition. Create a rough draft of the anticipated expenses you think will be required. Do the profits of implementing DevOps exceed the expenses?
Start small, and then scale up gradually over time. Rather than turning all departments into DevOps, implement the change in small steps. Observing and measuring the DevOps team's achievements on small projects can help you decide how to move forward.
Hire a Security team. Along with developers and operational personnel, hire a security team to monitor your project for any vulnerabilities and attacks.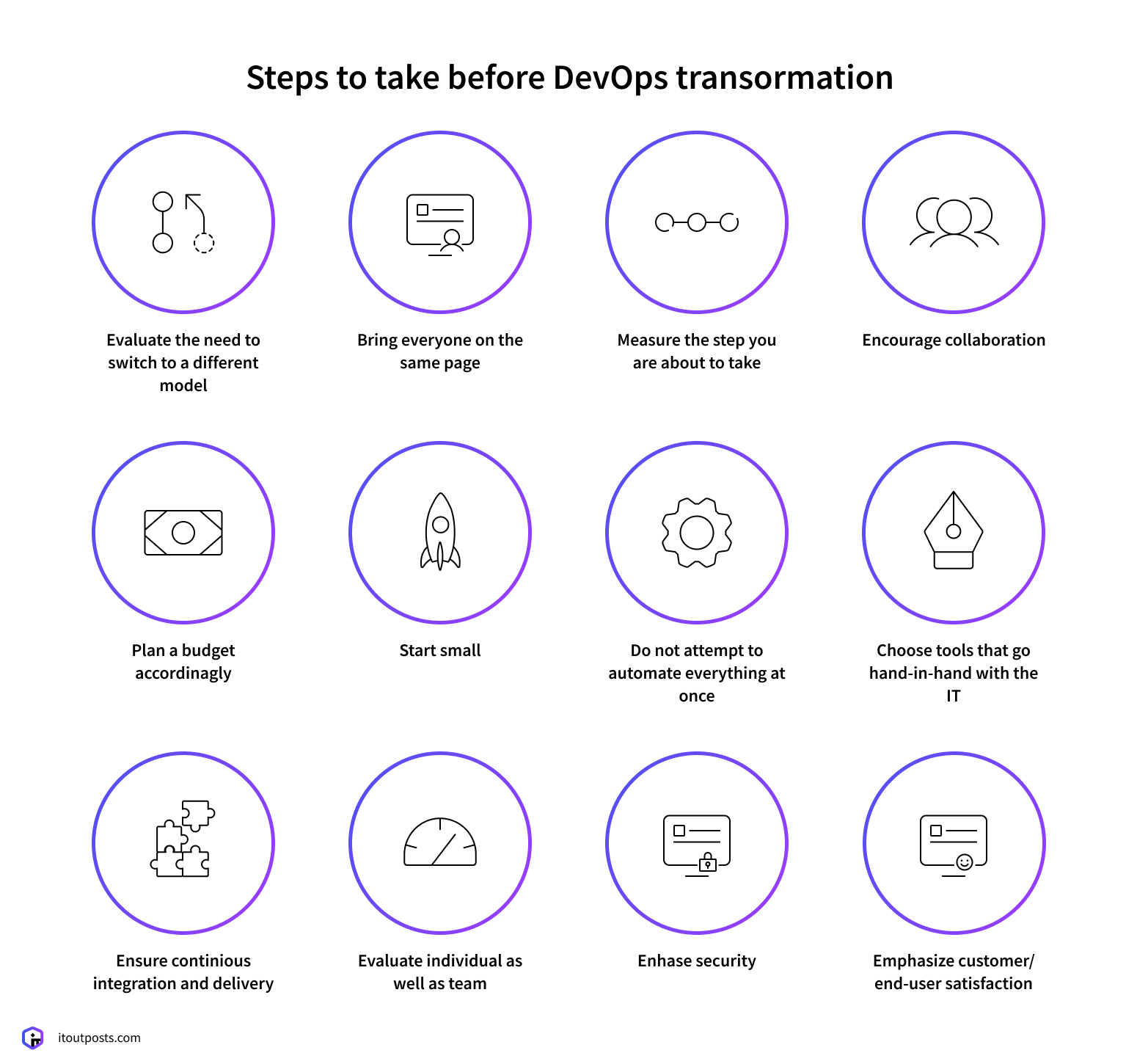 I want to work with you. What should I do?
Does bringing DevOps into your e-commerce business sound right for you? If so, there's no time to waste! Put your details into the form right now and
get your project estimation absolutely for free!
The future of your business starts today!
High performance with DevOps compared to non-DevOps with 208 times more deployment frequency, 106 times faster lead time, 22% minimized time on unplanned work and rework. DevOps organizations report 60% improvement in revenue and profits.
DevOps is on demand everywhere. Regardless of size and revenue, DevOps is the need of the hour for any company, from SMB to large corporation, to break the silos between operations teams.
The three important KPIs are as follows:
Meantime to failure recovery – This is the average time taken to recover from a failure.
Deployment frequency – The frequency in which the deployment occurs.
Percentage of failed deployments – The number of times the deployment fails.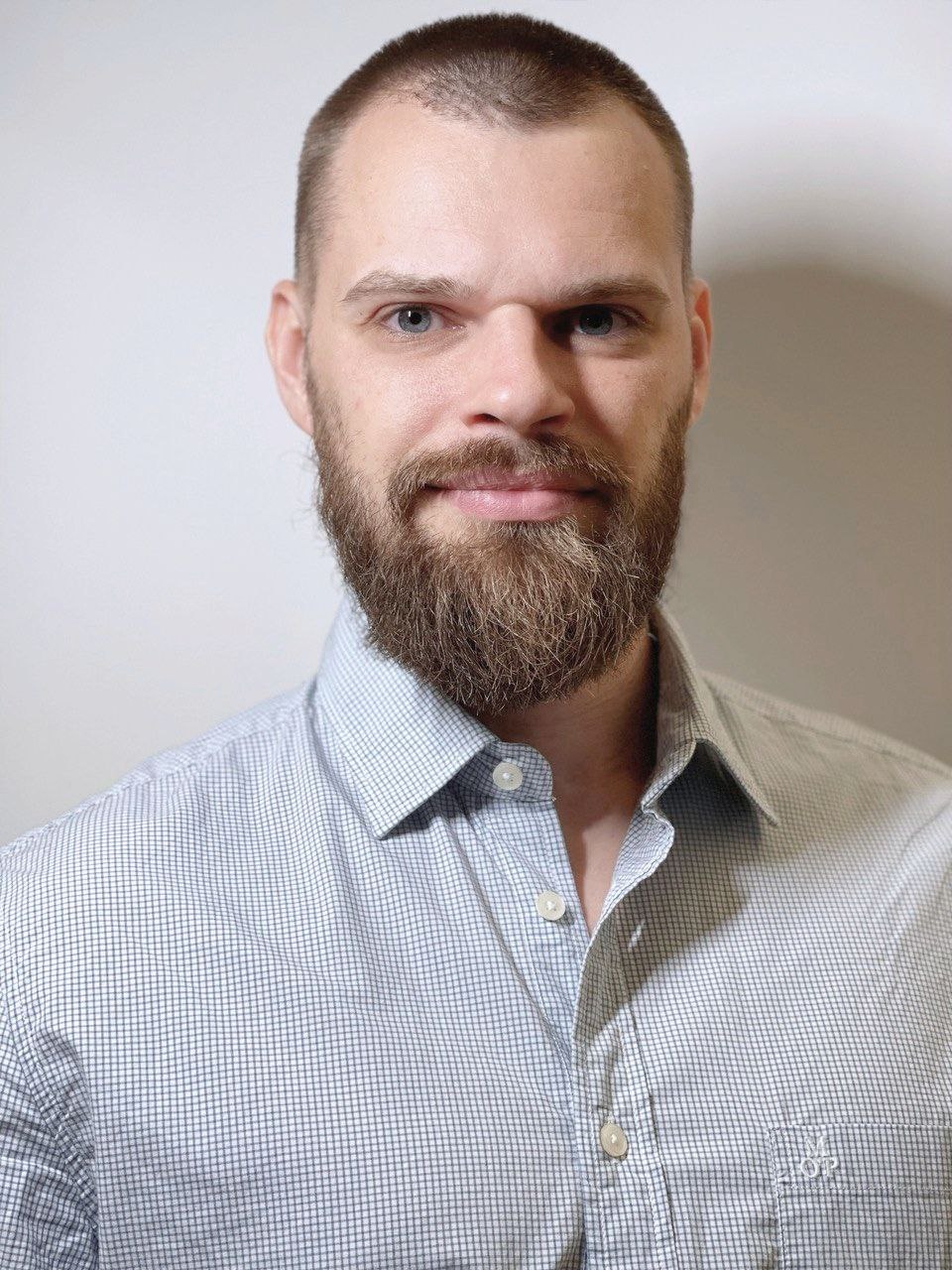 Dmitry has 5 years of professional IT experience developing numerous consumer & enterprise applications. Dmitry has also implemented infrastructure and process improvement projects for businesses of various sizes. Due to his broad experience, Dmitry quickly understands business needs and improves processes by using established DevOps tools supported by Agile practices.