Exchange Migration: Enterprise-Level Email Service for Your Business
Would you like to implement an enterprise-grade email service to increase the efficiency of your business? In this case, you should definitely learn more about Microsoft's proprietary cloud service, Exchange Online which allows its clients to work not only with corporate mail but also with calendar, tasks, and contacts from a PC, phone, and through a web browser. To learn more about the features, benefits, and risks of the Microsoft Exchange migration, read this article.
What Is Exchange Online?
Exchange Online is an easy-to-use, cloud-based corporate email. It is a part of Microsoft Office 365 with all the features of Microsoft Exchange Server. Like other Office 365 services, it was designed to provide customers with reliable digital services that eliminate the costly and insecure IT infrastructure deployment hosted on the local hardware. As for Exchange Online, it provides Single Sign On, syncs with Active Directory, and ensures great scalability and reconfiguration without the overhead of requiring on premise deployment and maintenance (although it supports a hybrid model that combines on premises and online services). Also, this service provides users with access to email, calendar, contacts, and tasks from PC, web, and mobile devices. It allows administrators to use Group Policy and other Exchange Online management tools and features. Here are just some of the features that Exchange Online has.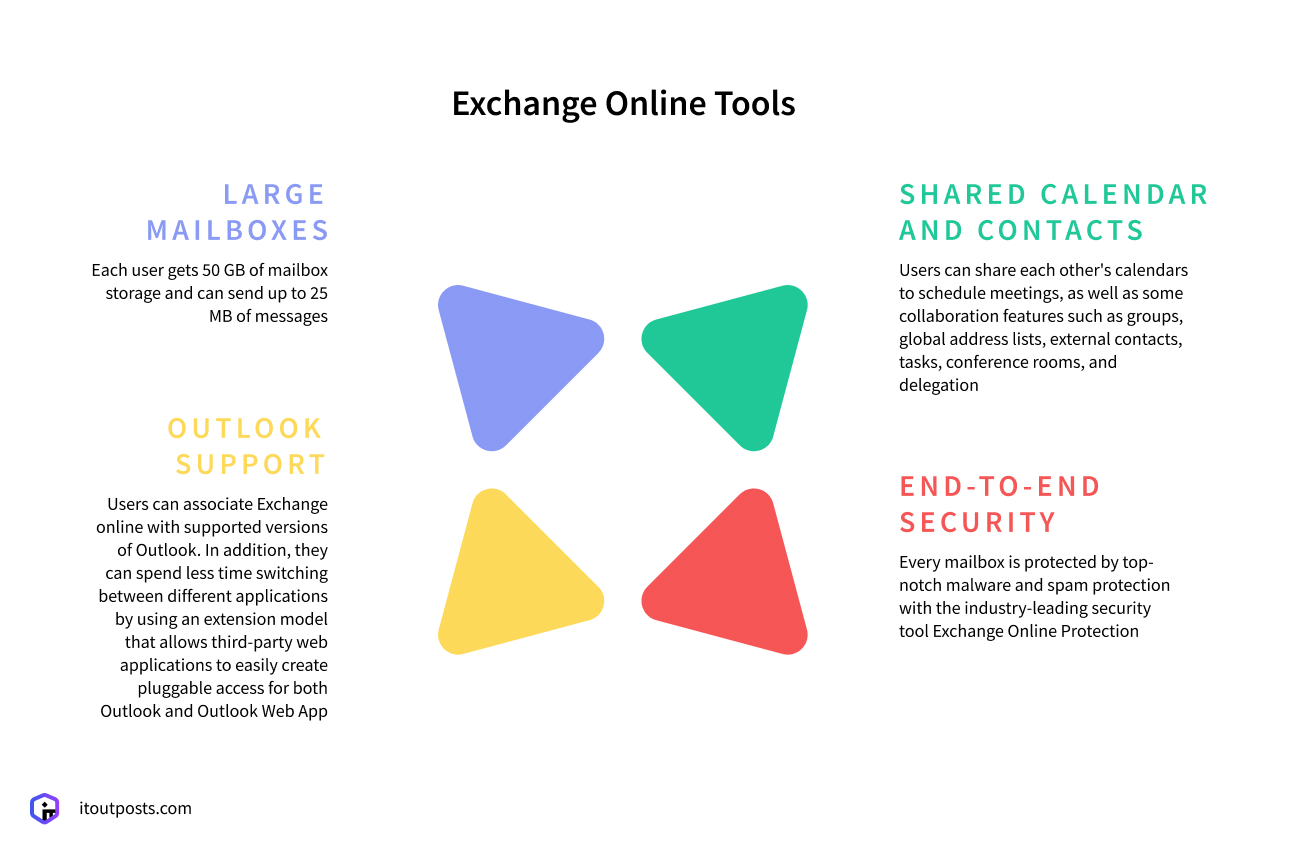 Typically, Exchange Online is used by businesses, schools, government agencies, and non-profit organizations.
Why May You Need Exchange Migration?
Exchange migration is the procedure of moving emails from on-premise servers to Exchange Online (in particular, to cloud servers). This process helps businesses to build a new, more scalable, and secure workplace adapted to the introduction of advanced digital transformation strategies. However, these benefits are very abstract, and for companies that are going to migrate, it is very important to understand exactly what upgrades will achieve them. The fact is that the temptation to stay on the local infrastructure is still quite strong: companies still want to have full control over all Exchange data. Therefore, we propose below to consider the factors that directly provide the above benefits for businesses: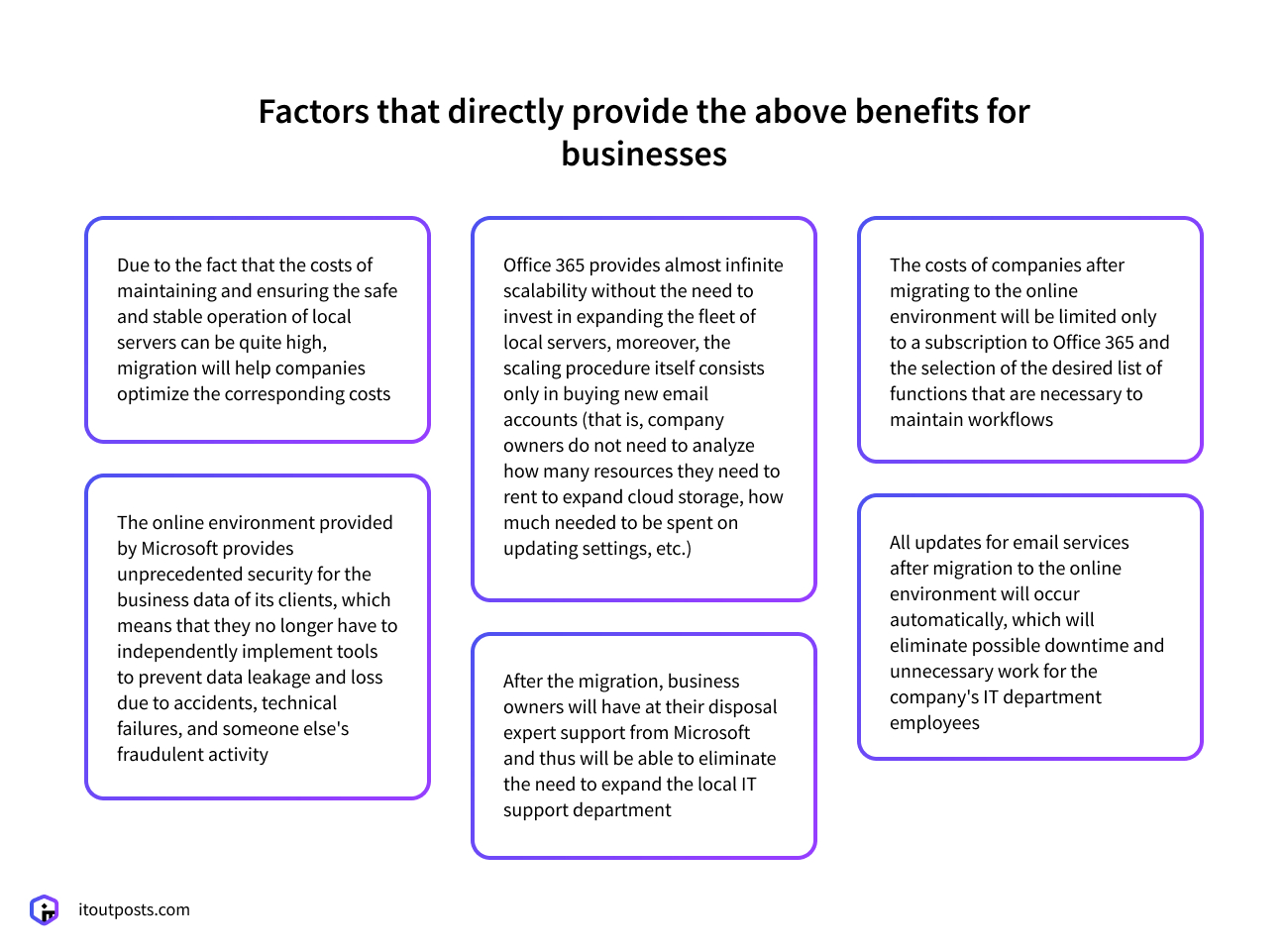 Thus, companies that have chosen migration will be able to see positive changes not only in their work processes but also in overhead costs in the shortest possible time after its implementation.
How to migrate Exchange to Office 365:5 Types of Exchange Migration
Would you like to get a smooth and safe transition from legacy tools to Exchange Online to make your business workflows more efficient? In this case, you are in the right place. Our experts will apply their best practices to give you the most out of what Microsoft Azure offers.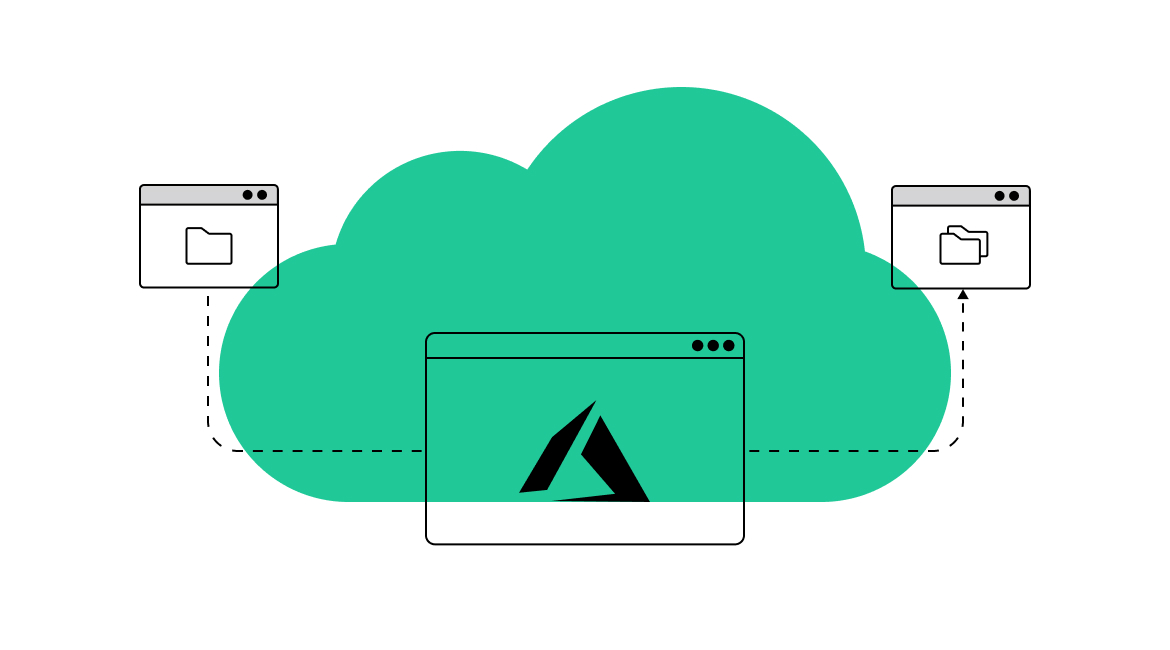 Cutover migration
Cutover migrating Exchange to Office 365 implies a fast email migration (for a few days) without any idles in the client's IT infrastructure. This method is the best option for companies that don't operate large amounts of data (up to 2,000 mailboxes).
Staged migration
For companies with 2,000+ mailboxes, this type of migration will be the best option. It is performed longer than cutover migration and needs a detailed assessment, planning, as well as migration strategy development. As a result, the entire migration process is divided into phased migrations of multiple on premise mailbox batches over the course of a few weeks or months.
Hybrid migration
Hybrid migrating mailboxes to Office 365 is a perfect choice for clients who want to transfer on premise Exchange mailboxes to Exchange Online. It is also performed in batches and requires assessment and planning. In addition, a hybrid deployment can be used as an intermediate step to complete moving to Exchange Online.
IMAP migration
To transfer user mailboxes from IMAP to Microsoft 365 smoothly and safely, clients usually choose this type of migration. For this, migration experts use the Exchange admin center or Exchange Online PowerShell.
PST migration
This way to migrate to Exchange Online was designed for importing or uploading PST from third-party email platforms to Microsoft 365.
How Is Exchange Migration Performed?
In practice, Microsoft Exchange migration, regardless of the type chosen, is performed in a strictly predefined sequence. This is the only way you can get the result you expect and be sure that the updated system works as planned. So, would you like to know how to migrate Exchange to Office 365? Below we will highlight the main steps of it.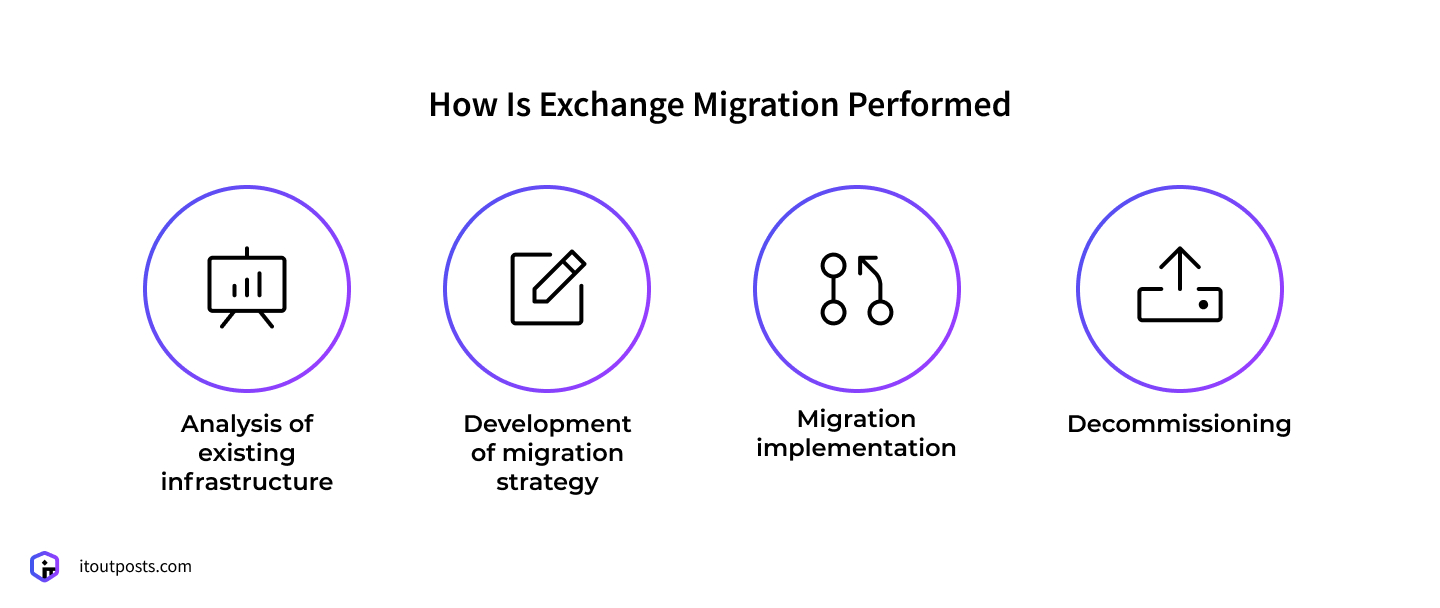 Analysis of existing infrastructure
First, the migration experts check if the client's system is ready for migration. As a result, they define the strict technical and business requirements for future migration to provide the client with the most Exchange Online has to offer.
Development of migration strategy
Next, the migration specialists develop the most effective migration strategy and choose the best type of its implementation (cutover, staged, hybrid, IMAP, or PST). In fact, this stage helps them to prevent the client's business from unpredictable behavior of the upgraded system and loss or leakage of mailboxes' or other business data.
Migration implementation
For migrating Exchange, experts use a pre-built migration plan and backup all the data stored on the on premise hardware. After that, they transfer only one batch to check if it works as it was planned before. If it is so, they conduct migration of the rest of the batches, paying special attention to data-heavy ones. When this process is completed, the testing in the field is performed.
Decommissioning
At the final stage of migration, it is needed to disable services that after Exchange migration lost their usefulness for the client's business. After this, the final system checking is performed. If no problems are found, the modernized solution can be launched into public use.
Common Issues That May Arise During Online Exchange Migration
Although Microsoft claims that it is safe to migrate locally hosted email services by following the recommendations outlined in the official guidance, in reality it can be difficult to implement and require the help of experts. That is why if you do not have experience in carrying out such procedures, it is better to immediately contact the specialists who provide services of this type. Otherwise, you may face: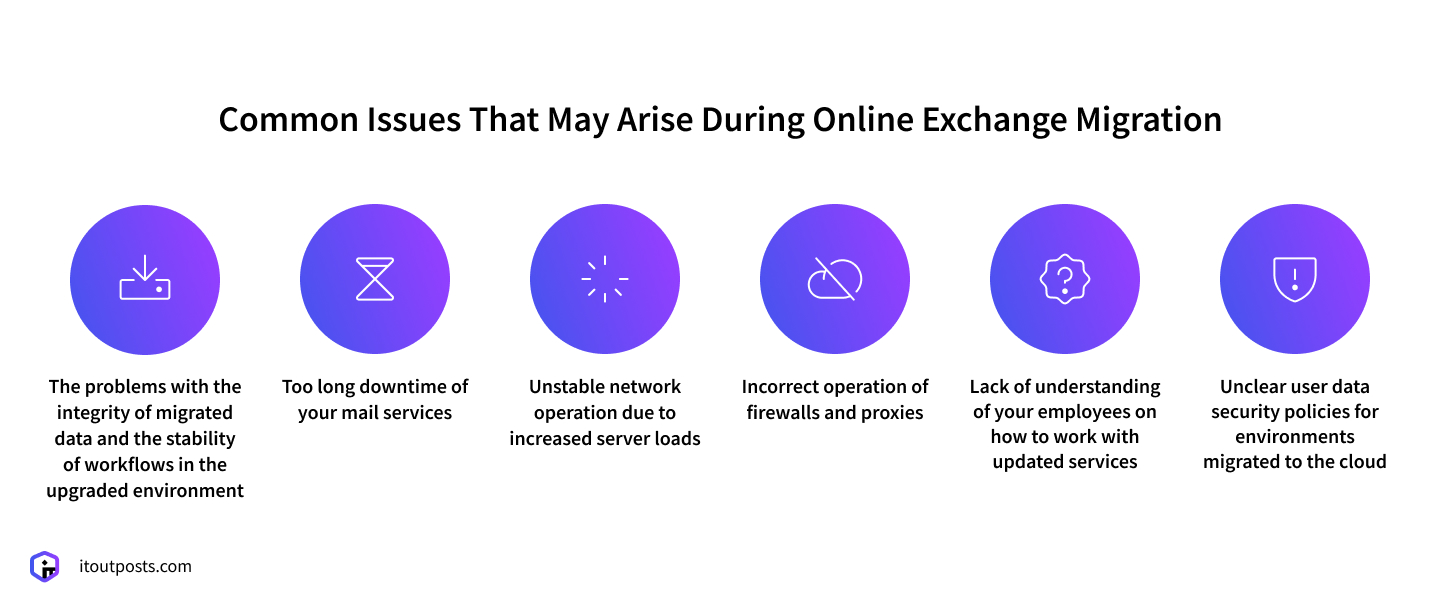 Note that the above list items are not all the obstacles that may arise on the way of your successful migration to the online environment. To get a predictable result from this migration and achieve your business goals, you will need at least one expert in your migration team who has the necessary experience and can choose the best migration type for your case from all five existing ones.
Choose the Best Exchange Migration Experts for Your Business
As you can see, Office 365 migration from Exchange can greatly enhance your corporate email experience and provide scalable and reliable storage for your emails. In turn, we hope that now after reading this article you get a full understanding of what type of migration is best for your company and how to perform it in the most secure way.
If you are interested in different types of migration or migration advisory services (for example, migration to AWS, Microsoft Azure, Kubernetes deployment, and so on), please, contact us. We will build the most effective migration strategy for your business to meet your highest needs, solve existing problems, fix vulnerabilities, as well as ensure compliance with the standards of your business industry. As a result, you will get an advanced cloud-based solution and will be able to reduce appropriate costs.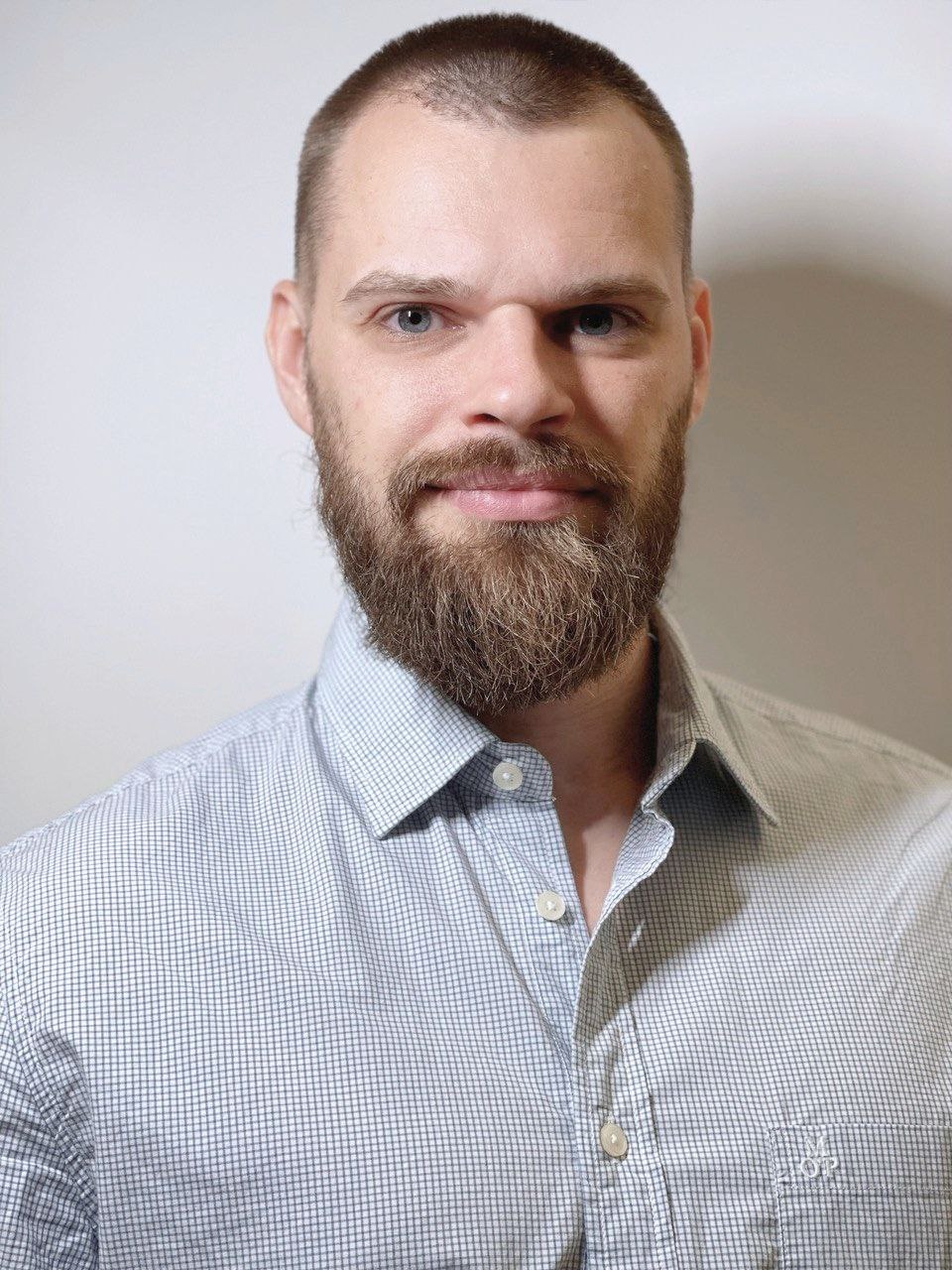 Dmitry has 5 years of professional IT experience developing numerous consumer & enterprise applications. Dmitry has also implemented infrastructure and process improvement projects for businesses of various sizes. Due to his broad experience, Dmitry quickly understands business needs and improves processes by using established DevOps tools supported by Agile practices.